Home
---

Welcome to my Mantis Plugins website.
Browse the Plugins list by clicking on the plugin name to see its features and how to install and configure it.




Skype plugin - deboutv - 2008-09-28 21:18:50

3 new plugins these last weeks:

The Skype plugin combined with Notif plugin allows you to send instant message on your Skype account.
Few plugins based on Skype plugin will be released soon to offer more possibilities with Mantis and Skype...




Mantis 1.2.0a2 - deboutv - 2008-08-24 17:00:33

Some plugins have been released this week-end. The following plugins are compatible with Mantis 1.2.0a*:

Plugin Manager 0.3.0
HTMLmail 0.0.5
Notif 0.0.2
Graph 0.0.4

Other plugins will come soon.
NB: These plugins are also compatible with older release of Mantis
Two new plugins - deboutv - 2008-08-04 19:07:36
Two new plugins have been released: MyReport and MyView. These plugins are used to change the Bug Report and My View pages.
New plugin - deboutv - 2008-01-11 20:30:41
A new plugin has been created: ReleaseMgt.
This plugin allows users to store the files to download for each project release. An email could be sent to the developers during the file upload.
New export format - deboutv - 2007-11-04 14:42:04
A new format for the Import/Export plugin is available: PDF.
Go into the plugin Import/Export, choose Export, then select your bug(s) and then choose the PDF format.
Forum will be unaccessible - deboutv - 2007-10-31 09:19:45
The Forum and the bugtracker will be unavailable in few days during few hours/days.
Sorry for the gene caused.

Plugin updates - deboutv - 2007-08-19 10:47:35
Only new plugin are announced on the news page, to be informed about the plugin updates, please use the dedicated RSS feed.

The spanish translation of the Import/Export is available, thanks to Fernando. If you want to contribute to the plugins or the website (translation or code), contact me by email.
New Plugin: LongCF - deboutv - 2007-06-30 18:14:34
A new plugin has been released: LongCF.

This plugins allows user to add custom fields that support more than 255 characters (textarea).
New Plugin - deboutv - 2007-06-17 17:08:23
A new plugin has been created: BBCode.
Snapshots: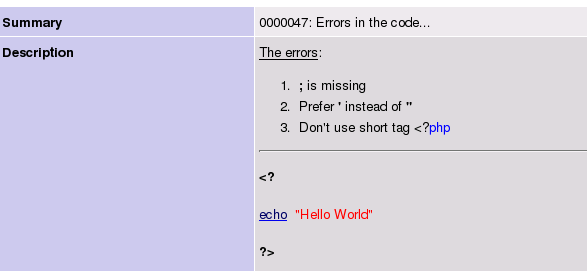 Plugin releases and new plugin - deboutv - 2007-06-11 00:24:49
Theses plugins have been released/added:

Plugin Manager 0.1.2 (Windows now supported)
HTMLmail (compatible with Mantis 1.05)
Search 0.0.1 (new search engine)
Search 0.0.2 (security fix).

The website is not up to date...